While the word 'frittata' is new for many people in North America, it is just one name among many different regional names for a dish that has been with humanity for a very long time. In essence, a frittata is an open face omelet that usually contains a mixture of vegetables and other ingredients cooked in a batter of scrambled eggs. There are some specific differences between a proper Italian frittata and other regional examples, such the Persian 'kuku', or the Arabic 'ajjah', but given our global culture I encourage you to experiment freely. Italian frittatas tend to have more egg relative to other ingredients, and are flipped over at some point during the cooking process, whereas both kuku and ajjah contain much less egg, and aren't flipped over. Personally, I avoid flipping over a frittata because I dislike the crispy brown crust of overcooked egg.
I often find myself making a frittata for my family when I was otherwise unprepared for making dinner. Nobody took any meat out to thaw in the morning, and now everyone is hungry. Well, as long as we have eggs, vegetables, and some nice ripened cheese, I can make my 'egg pizza' in less than 30 minutes, beginning to end. And it's so good, even those who normally hate eggs will eat this up without complaint!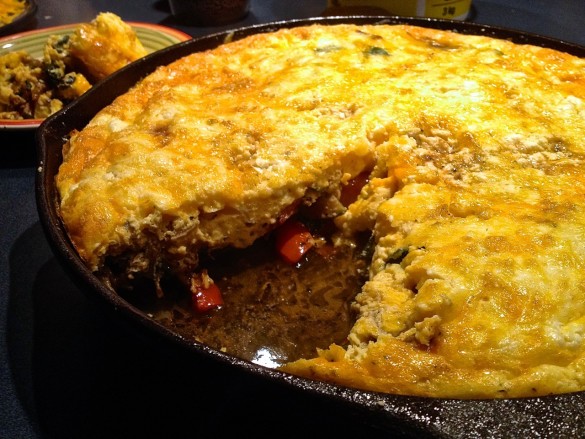 Ingredients
1 large red onion, chopped
1 large green pepper, chopped
1 medium zucchini, chopped
2 large tomatoes, chopped
1 head garlic, minced
1 tsp. dried basil
1 tsp. dried marjoram
1 tsp. dried rosemary
1 tsp. dried sage
½ tsp. red chili
½ tsp. black pepper
½ tsp. salt
2-3 tbsp. butter or olive oil
1 dozen eggs, scrambled
½ cup pitted black olives, chopped
optional: ½ – 1 cup crumbled/grated cheese, e.g. romano, parmesan, feta, etc.
Directions
In a large cast iron pan at medium heat, add the butter or olive oil, and when it is hot, add the dried herbs and garlic. Stir this for a minute or so, and before the garlic changes color, add the onions and green pepper. Sauté the vegetables just until the onions become translucent, then add the zucchini and sauté this for a couple minutes. Add the scrambled eggs and turn down the heat down to low. Distribute the chopped tomato and black olives across the surface of the pan, and cover with cheese. If you have an oven, place the pan in a preheated oven at 350˚F/175˚C for 15-30 minutes, or until the eggs have completely risen, but before the surface browns too much. For variation, throw in some nice Italian chorizo, the leftover bacon from breakfast, or smoked salmon just before you add the eggs. If you don't have an oven, you can also make this on the stove-top, by using a tight-fitting lid, and keeping the heat low so it doesn't burn.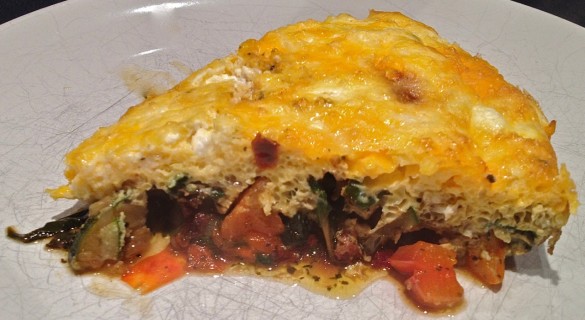 In Iran, 'kuku sabzi' is made in a similar fashion, using garlic or shallots, fried in ghee, later adding about four cups of chopped greens such as spinach, parsley, leek, cilantro and dill. Only half a dozen eggs or less are used when making kuku sabzi, just enough egg to bind it so it looks like a green frittata when it's done. Top it with fresh crushed walnuts and a few barberries before serving.